Quality customized commercial vehicle cleaning services for your fleet needsand budget. Waterline Mobile Fleet Wash provides mobile fleet service to your storage yard when you need it. Your drivers will thank you for making their trucks and trailers look brand new. Our professional uniformed crews are extremely reliable and skilled in a variety of maintenance services that will accommodate all your fleet washing needs.
What we can do for you

Semi-trucks
Delivery trucks & vans
Buses
Flat Decks
Pick-ups
Trailers, including:

Refrigeration units
Tankers
On-site Water Recovery
Affordable FleetWash Programs
Fleet MaintenanceContracts
Give us a call today and let us develop a custom, affordable, comprehensive plan suited especially for your fleet.
Our goal is your satisfaction!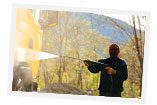 The staff of Waterline Mobile Fleet Wash are dedicated to customer service, operations, safety, environmental maintenance and quality control. During the wash process, all water is collected on our mobile units. The water is properly recycled or discharged. Waterline Mobile Fleet Wash believes strongly in protecting our environment.
Helping you to run a clean business.

Waterline Mobile Fleet Wash provides general exterior cleaning of all types of fleets: We handle this on a weekly, biweekly, or monthly basis. We schedule our services around our customers' needs and wash their fleet whenit is convenient for them. All of the washing is done with safe chemicals to comply environmentally.
We will come to your site, warehouse or operations yard and wash your vehicles.
You do not have to spend your expensive drivers' time sending your vehicles to us.
We use only bio-degradeable cleaning fluids and purpose built, non marking brushes.
The complete exterior of the vehicle will be washed including, the body, the frame, wheels, lift gates etc.
Call us and get a FREE estimate!
856-863-8001